I've been feeling a bit down lately.
It's the house.
I love our house, it's spacious and has big windows. It has a good sized outdoor space and a garage with room for more than just a couple of bikes.
It's really a good house.
It's just the stuff inside, specifically the décor, that's getting me down.
So, I've decided that something needs to be done.
In an effort to kick-start the whole process (which requires funding for some things) I've been identifying what I want to do in each room, and then I'm approaching them in order of how much difference the changes will make in correlation with how little they will cost.
So, a free thing which will make a big impact – that's top of my list. An expensive thing which will only make a small or medium impact – that's at the bottom.
So, with that in mind, at the weekend we went shopping. We actually went out to look at sofas (big cost, smaller impact) but the last thing we did before we came home was to pick up some new accessories for the bathroom.
The bathroom itself is done. It's tiled in nice tiles, has a decent suite and floor, and a really posh radiator.
But I like colours, I like bold patterns and rooms which make you
feel
something when you walk in.
The bathroom didn't do it for me.
(left to right, top to bottom) Cluttered windowsills, I already took down the shower curtain (nice, but not me) general mess and no pizazz!
But, changing the shower curtain, the soap dish and cups, new bath-mat and loo-mat, and moving some clutter into the cupboards (or bin) made a massive difference to how I feel about the room. In addition, these were things we needed anyway!
(left to right, top to bottom)
Shower Curtain from Dunelm Mill
,
Marble Effect Soap Dish from Wilkinsons
,
Marble Effect Tumblers from Wilkinsons,
and a
Bath Mat and Pedestal set from Dunelm Mill
It wasn't a "free" change, we did have to pay for the mats and such, but they weren't very expensive and now we have two sets (our other set are white) which we can swap out when one needs washing.
Great stuff!
The next room I want to tackle is the kitchen.
This will be a low-cost high-impact change too.
At the moment we have a lovely kitchen, but the cupboards are painted duck-egg-blue. I'm not really a fan of that colour – certainly not as a "main" colour in a kitchen. Kitchens should be dynamic rooms, and they should feel dynamic in their colour schemes.
The kitchen is an L shape, with access into the kitchen at both ends of the L.
Kind of like this: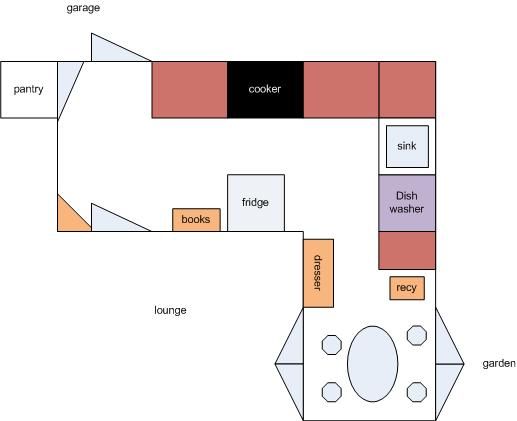 The plan is to re-paint all the cupboards a nice bold pink colour (the exact colour is yet to be agreed by hubby and myself) and having seen a great example of a bold kitchen while we were in France (hubby's second cousins have great taste!) I also want to paint at least one wall lime green.
The current plan is for that wall to be the one at the same end as the doors into the garden, the one with no doors on – just a radiator.
Once I've done this I plan to fix up a mirror we have. It's currently got a black surround which is a little chipped, and I think that with a coat of primer and a coat (or two) of the same pink as the cupboards, it could look amazing on that green feature wall!
Then, there's the other wall. I've been thinking about this too, and also the lack of pin-boards in the kitchen. So at the other end of the L, the wall with the pantry door in it, I think that wall could also be green (might brighten up that end of the kitchen!) and on that wall I could put the big pin-board that hubby has.
However, I don't want to put it up as-is! I want to paint the frame (pink again, of course) and then supplement the cork bit with some nice fabric, something which will still take pins, but that will look pretty.
Perhaps something like this:
I think that would be much nicer than a regular pin-board, and would work really well with a green wall and pink frame.
The final thing I want to do is to add a little more storage. We have loads of storage in the kitchen, but I'd like to add some kind of space for the ironing board. This could be as simple as some brackets on the wall to rest it behind, or could be a funky cupboard/unit thing.
Watch this space!